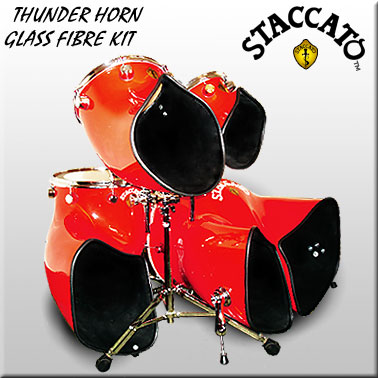 The original Staccato drums were produced in glass fibre and we are offering the same GRP technology for the shells.
Coloured Glass Fibre  – Impregnated colour finish – no paint is used. Colour options include Monochrome (Black/White) and any combination of Red/Yellow/Blue/Green or Orange. Because we are not building these drums on a production line but only to order, your custom kit will be built to your own interior and exterior colour specification.
Sets of any combination of drums including Tom Tom pairs can be made in many colour combinations to order.
Production methods for the 2013 shells remain exactly the same as the vintage kits, hand laminated colour impregnated glass reinforced plastic and carbon fibre composite in the special limited range.
We have made a major improvement to the Tom Tom's allowing them to fit inside each other reducing the transportation space.
Sizes available 6, 8, 10, 12, 13, 14″ TomToms – 16″ Floor Tom  – 22″ Bass Drum
For a quote e-mail